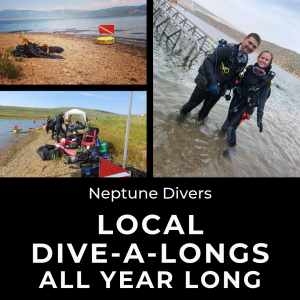 At Neptune Divers we love to DIVE, every month we plan some type of a local dive-a-long, that all skill levels are welcome to join. There is not a fee to participate, we just like to have dive buddies along for fun. You will be responsible for getting your own dive equipment and transportation to the site. Some dive sites may have an area use fee.
These dive-a-longs are a perfect opportunity to meet other divers, use your equipment, and to just log more dives. We hope to see you on the next dive.
Click each location for more details



2020 Dive-A-Long Schedule:
January 19 - Meadow Hot Springs
February 15 - Crater
February 28 - Ladies Dive @ The Crater
March 8 - Bellmont Hot Springs
April 25 - Easter egg Hunt @ Seabase
May 9 - Blue Lake
May 23 - Blue Lake
May 31 - Seabase
June 6 - Burraston Pond
July 25 - Flaming Gorge - Reserve your campsite at Firefighters loop C
August 8 - Strawberry
August 20 - Bear Lake
September 12 - Sand Hollow
October 24 - Underwater Pumpkin Carve
For more details and to see more events CLICK HERE
Call 801.466.9630 for more details and rental rate packages for the dive.